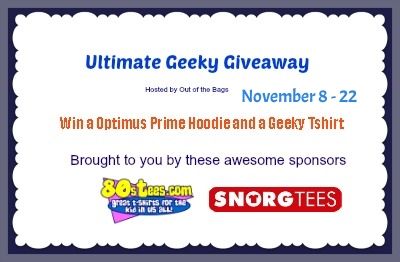 Prize:
1 lucky winner will receive:
1 Optimus Prime Hoodie from 80's Tees ($60 arv) review
and a choice of 1 T-shirt from Snorg Tees (up to $25 arv) review
Hosted by:
Co-Hosted By:
In case you young'uns don't know, "No Ma'am" from Married with Children, a show both my husband and I enjoyed greatly when it was still on the air. I also discovered that a more apt name for their site would be "80's Tees and Other Neat Stuff," as I also found some awesome pint glasses that I HAD to have (a Paddy's Irish Pub one for him, and a Princess Bride one that warns "Contents May Contain Iocane Powder" for me).
Sadly, I didn't see the pint glasses until after I'd already placed my order. This was my first purchase with them, and I'd signed up for their newsletter to get 10% off the order. I emailed customer service to see if they'd let me add a couple of items on to the already-submitted order, and I have to say, they have GREAT customer service. Their representative emailed me back promptly and was happy to let me add on the pint glasses to my order so I could receive my 10% discount on those as well.
My husband LOVED his shirt and wears it regularly (even to his job - he works behind the scenes at a television station, so it's sort of appropriate) and we both use our new pint glasses every day.
Snorg Tees has some great items for the geek in all of us as well. My next t-shirt may very well be this one:
So try your luck, see if you'll be the lucky winner!
Don't forget to come back every day to enter for extra chances to win!
This giveaway is open to US only, 18+ and will end on November 22.